Home
BMI 81273 Ledstrip Geel 3M superBright 60xLed 1meter 12V-3S Envelop
BMI 81273 Ledstrip Geel 3M superBright 60xLed 1meter 12V-3S Envelop
BMI 81273 Ledstrip Geel 3M superBright 60xLed 1meter 12V-3S Envelop
Spanning op foto is 8,4V en dan al heel fel. Kan dus van 6-12V


Op voorraad
Artikelcode: 81273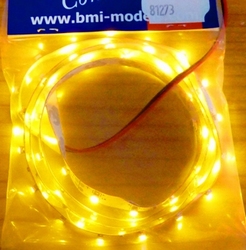 Description:
LED Type: 5050, Non-waterproof
LED Quantity: 60 LEDs per meter
Voltage: DC 6~12V
Power: 14,4W
Luminous Intensity (Lm/m): min.810, max.1080
Lifespan: 50,000hours+
Working Temperature:-20?-50?
Beam angle: 120°
Drive Mode: Content Voltage
Packing: 1m/roll
Base: YELLOW-ORANGE
Color: YELLOW ORANGE,
Certificate: CE
Warranty: 2 year
Information:
Flexible to fit different occasions, every 3 LEDs can be cut apart.
Maintenance free.
Easy installation.
Flexible ribbon for curving around bends.
Completely smooth and even light spread, solving the uneven luminous problem.
Ultra-bright but running at low temperature.
Energy Saving.