Home
Boegschroef Bowthruster 7,2V 22/25mm 154mm nr. 108-04 Pakket
Boegschroef Bowthruster 7,2V 22/25mm 154mm nr. 108-04 Pakket
Boegschroef Bowthruster 7,2V 22/25mm 154mm nr. 108-04 Pakket
Boegschroef van Ø25 mm uitwendig,
voltage: max 7,2 Volts.


Op voorraad
RABOESCH | Artikelcode: 108-04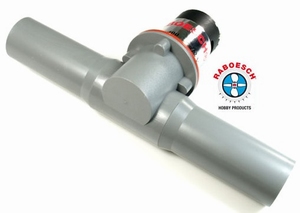 Productinformatie
6V of 7,2V of 12V motor voor deze boegschroef!
Raboesch Bow Thruster Boegschroeven 108-01 t/m 108-05.
Deze zeer krachtige boegschroeven worden compleet gemonteerd geleverd met een Power 400 elektra motor van 7,2 volt.
De voortstuwing geschiedt door een vlakke propeller (peddel)
die het water door de straalbuizen perst en het geheel functioneert dus als een pomp.
Deze constructie is zeer sterk en stabiel en vereist nauwelijks onderhoud.
Het pomphuis en de verlengbuizen zijn vervaardigd van ABS.
De boegschroef kan zowel verticaal als horizontaal ingebouwd worden.
Gewicht: 72 gram. RPM 17.000. Onbelastespanning: 0,5 Ampére.
Blokkeerstroom: 20 Ampére. Beste vermogen: 78%. Motor as: 2,3x12 mm.
These very powerful bow thrusters are supplied fully mounted with a type 400/7.2V electric motor.
The propulsion is provided by a flat propeller (paddle) sucking in water on one side
and expelling it through the jet nozzles at high pressure on the other.
This design is very robust and very stable and maintenance required is very little to none.
The pump housing and the extension tubes are made of ABS.
The motor is sealed with a G-ring and an O-ring thereby ensuring a good seal
so that the thruster can be installed vertically as well as horizontally.
The motor with the pump housing cover can be removed easily.
The cover has an O-ring that ensures water-tight sealing of the entire assembly.
Technical Specifications:
• Electric Motor
Operational Current 6-7.2V
Idle Revs 17,000 RPM (at 7.2V)
Idle Power Consumption 0.5A
Efficiency 78%







• Thruster
Diameter inner 22 / outer 25 mm
Total Length 154 mm







Please see drawing below for dimensions in detail.
A 28 mm
B 72 mm
C 14 mm
d 22 mm
D 25 mm
E 34 mm
F 40 mm