Home
Castle BEC 2.0 2-14S 5,25V- 14Amp out CC-010-0154-00 Envelop
Castle BEC 2.0 2-14S 5,25V- 14Amp out CC-010-0154-00 Envelop
Castle BEC 2.0 2-14S 5,25V- 14Amp out CC-010-0154-00 Envelop
Default spanning = 5,25V
Bubble enveloppe kan op eigen risico!


Op voorraad
Artikelcode: CC-010-0154-00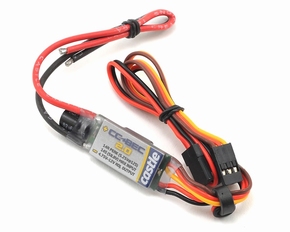 Productinformatie
ANDERE BEC hardware
What the heck is a BEC?
Battery Eliminator Circuits zijn kleine elektronische schakelingen die de noodzaak van een ontvangerpack of regelaar met BEC elimineren.
Deze zetten het hoge voltage van de Drivepacks of Lipo om naar een bruikbaar spanningsniveau voor de ontvanger en servo's.
De PRO BEC is daarom geschikt om hoge stromen aan zware High end digitale of Bigscale servo's te leveren.
De meeste normale BEC's zijn daar niet geschikt voor.
Tevens ontlast je Vaar-, Vlieg-, en Rijregelaars door de BEC te ontkoppelen.
Deze produceert dan veel minder warmte en gaat niet snel stuk.
P=UxI voorbeeld 3 cellen (11,1V-6V) x 5Amp = 25Watt vermogen omgezet naar 5,1V
OPMERKING:
CC BEC 2.0 mag nooit worden gebruikt in serie of parallel met een ander BEC of batterijpack-ontvanger aangesloten op de RX / Servo kant van het circuit.
CC BEC 2.0 Voltage Regulator
From the trusted manufacturer of BECs comes the next generation of voltage regulators.
Designed and assembled in the USA1, Castle Creations' CC BEC 2.0 gives users higher voltage ranges in two unique packages.
For pilots there is a smaller, lightweight (0.7 oz.) design capable of 14 amps peak, perfect for sport flying, helicopters, and UAVs.
Racers, crawlers, and other splashers can now integrate a 14 amp peak power regulator.
Both versions handle up to an impressive 14S without brake enabled or 12S with brake.
The CC BEC 2.0 complements our established line of BECs hobbyists have relied on for years.
With hundreds of thousands in the field, users can count on this new design to power today's high-power, digital servos and accessories safely.
The CC BEC 2.0 features heavy duty, dual output wires that will provide clean power to sensitive radio equipment.
Castle Link2 can be used to set the output from 4.75 to 12 volts and power today's power hungry servos, cameras, and other accessories.
Do it right the first time, invest in the CC BEC 2.0 to protect expensive electronics for the long haul.
Note: CC BEC 2.0 should never be operated in series or parallel with another BEC or backup receiver pack connected to the RX/Servo side of the circuit.
Footnote:
1. Adjustable Output Voltage may be set with Castle Link (sold separately).
Specifications:
Applications: Helis, Planes, UAS, Racing
Waterproof: No
Peak Current: 14A (dependent upon input and output voltage
Continuous Current:
4.75~7.0V Output: 9A
7.25~8.5V Output: 8A
8.75~10.0V Output: 7A
10.25~12.0V Output: 6A
Max Volts:
Surface: 12S (50.4V)
Air (w/Brake): 12S (50.4V)
Air (No Brake): 14S (58.8V)
Adjustable Output Voltage: 4.75 to 12V (set with Castle Link only - sold separately)
Default Setting: 5.25V
Size (LxWxH): 43x14x8mm (1.69x0.56x0.32")
Weight: 21g (0.7 oz) (with full length wires)