Home
EMCOTEC DPSI RV Mini 5 (2008) - Akkuweiche Pakket
EMCOTEC DPSI RV Mini 5 (2008) - Akkuweiche Pakket
EMCOTEC DPSI RV Mini 5 (2008) - Akkuweiche Pakket
Kies uw contactschakelaar in OPTIEMENU


Op voorraad
Artikelcode: A11030
EMCOTEC DPSI RV Mini 5 (2008) - Akkuweiche - Product description
Fully redundant power and servo management system of the latest generation.
Current distribution of 5 receiver channels to 8 servos (additional servos directly connectable to the receiver).
Up to 50A peak current load for optimal servo power. Failsafe electronical power switches with the proven pin switch actuator - the switching is not influenced by a micro controller (CSHC).
Regulated output voltage for the use of all battery types.
DVS - Selectable Dual Voltage Supply for discrete receiver and servo voltage provisioning: Receiver voltage switchable between 5.2V and 5.9V, servo voltage switchable between 5.9V and 7.4V.
LowDropOut regulators for minimum dissipation loss and maximum power. Protection of the receiver against the so-called "dynamo effect".
APP - Advanced Push-Pull servo pulse amplification - ideal for 2.4GHz applications. HFIB - High Frequency Interference Blocking rejects interference from long servo cables.
IVM - Intelligent Voltage Monitoring with integrated status and alarm display. Easily programmable for all battery types: NiCd, NiMH, Li-Ion, Li-Po or LiFePo4.
Optical and acoustical error indication . High grade ABS housing.
Delivery includes On/Off switch including mounting hardware, EMC high current connectors, 5 patch cables, operating instructions.
DPSI RV Mini 5 (2008) - Specifications
Current sources: 5, 6, (7)-cell NiCd / NiMH Cells, 2-cell Lithium-Ion batteries, Lithium-Polymer batteries, LiFePo batteries
Operating voltage range: 5.0V to 13V
Nominal input voltage: 6.0V to 8.4V
Output voltage receiver: 5.2V or 5.9V settable by jumper
Output voltage servos: 5.9V or full battery voltage settable by jumper
Quiescent current (turned off): approx. 1µA per battery
Quiescent current (turned on): approx. 55mA totally
Max. continuous current at 5.9V (15 minutes with LiPo batteries): 5A
Max. peak current at 5.9V (10 seconds with LiPo batteries): 50A
Drop-out losses at 4A: 0.4V
Maximum power dissipation: 8W
Number of servos: up to 10 servos in the complete system
CE approvals: according to 2004/108/EC
Environmental conditions: -10°C to +50°C
Permissible temperature range: -25°C to +85°C
LCL filtering (EMI): for each individual servo output
Interference Suppression at 35MHz: -20dB at 35MHz, -34dB at 100MHz
Dimensions incl. latches for battery connections: 77 x 99 x 15.8mm (3.03 x 3.9 x 0.62in)
Screw diameter for mounting: 4 x 4.2mm (0.17in)
Hole spacing for mounting: 78.7 x 67.7mm (3.1 x 2.67in)
Weight: approx. 105g (59.26oz)
Warranty: 24 month
For this product the following documents are available for download (Acrobat PDF):
DPSI RV Mini 5 (2008) - Additional informations
ATTENTION: because of customer demands you are able to select the switch actuator you want! Please select the fitting unit. By default the pin switch actuator will be delivered.
ATTENTION: The switching off process of DPSI works with a hall effect sensor. Hall effect sensors can be influenced by magnet fields. It is possible that the DPSI switches off when exposed to a very strong magent field (i.g. electric drive). Current-carrying cables generate a magnet field.
So please run all cables which are carrying a high current (>100A) with a distance of at least 3cm (1.18in) from the switch acutator.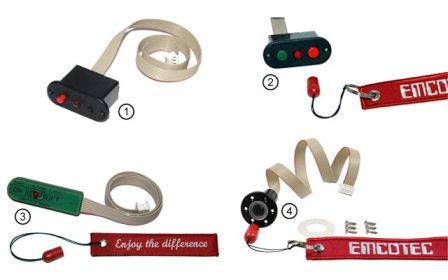 Kies uw contactschakelaar in OPTIEMENU