Home
Emcotec Locating Beeper / Model Finder PRO 90 dB A75002 Pakket
Emcotec Locating Beeper / Model Finder PRO 90 dB A75002 Pakket
Emcotec Locating Beeper / Model Finder PRO 90 dB A75002 Pakket
Zelfs zonder voeding werkt deze ook, gaat 1 miljoen laadcycle mee.
Weight: 23g
Dimensions: 78mm x 17,8mm (L x D)
Met label en resetplug


Op voorraad
Artikelcode: A75002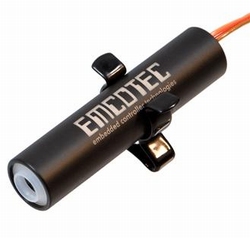 Locating Beeper PRO (model finder / tow rope finder)
Weight: 23g
Dimensions: 78mm x 17,8mm (L x D)
Ingenious system to find models landed out side (wheat- or corn-field, high grass, underneath edge of mountainside, and so on)
Also usable as tow rope finder if tow rope falls into hard to view terrain
Finding is accomplished by an ear piercing tone with more than 90dB sound pressure
Two SMD loudspeaker for more safety and higher loudness
Simple connection to a (free) receiver channel
Additionally, the locating beeper monitors the receiver's supply and activates a low voltage alarm if necessary
PRO-version with autarky supply due to integrated battery
Sounding of alarm occurs caused by missing or erroneous servo signal, a defined failsafe signal or interruption of the supply
Simple deactivation (switching channel at transmitter) immediately before turning the receiver off inhibits unwanted alarm
The show-stopper: even if the receiver loses power after landing outside (e.g. disconnected battery), the locating beeper is supplied by its built-in battery.
The battery is recharged in just 5 minutes as soon as the receiver is turned on and keeps the locating beeper alive for more than 2 hours.
The battery is totally maintenance free! The absolutely new applied battery technology allows for more than 1 million charging cycles.
This lets the locating beeper work life long.

Besides monitoring the servo signal the locating beeper PRO can be used for voltage monitoring.
The alarm starts as soon as an external voltage is disconnected (e.g. pulling from charging socket at model close to tow rope release).
Using a short circuit jumper stops the alarm after finding the tow rope.
Content of delivery: Locating Beeper PRO in nicely shaped plastic housing with clamp and operating instructions
For this product the following documents are available for download (Acrobat PDF):
Kan ook als sleepkabel vinder of failsafe gebruikt worden.