Graupner Duo-Servo-Voltage-Controller 5,9V nr. 4198 Envelop
Graupner Duo-Servo-Voltage-Controller 5,9V nr. 4198 Envelop
Geschikt voor 2 hoogstroomservo's wanneer men voedt op 2cell Lipo
For 2 servos
Input voltage 3.5 - 8.5V (2-cell LiPo batteries)
Output voltage 5.9V
Designed for currents up to 5A


Op voorraad
Artikelcode: 4198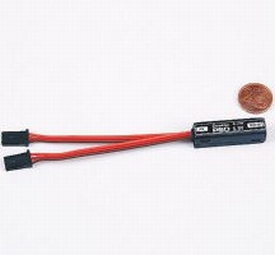 Description
Using this voltage controller, conventional servos can be connected to a receiver that is powered, e.g. by 2-cell LiPo batteries.
This makes possible mixed operation of conventional and high-voltage servos with one receiver.
Your proven servos can now work together with new high-voltage servos in a single model.
The duo-servo voltage controller makes it possible to connect 2 servos to 2 receiver channels in one device.
For 2 servos
Input voltage 3.5 - 8.5V (2-cell LiPo batteries)
Output voltage 5.9V
Designed for currents up to 5A
Specification
All-up weight, approx.: 7 g
Dimensions (LxWxH): 38 x 11 x 10 mm