Graupner LiPo Deep discharge Prot. for 2-14 cells nr 6496 Pakket
Graupner LiPo Deep discharge Prot. for 2-14 cells nr 6496 Pakket
Alleen voor regelaars die vooruit kunnen!
Kan ook in bubble zonder plastik doosje.


Op voorraad
Artikelcode: 6496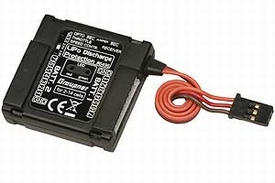 Maak uw regelaar geschikt voor LiPo.
Alleen voor regelaars die vooruit kunnen!
Specification
Operating voltage: 6 ... 58.8 V (2 ... 14 LiPo cells)
Receiver signal: 0.8 ms ... 2.2 ms
Monitor indicator: 2 LEDs
Throttle-back (shortening of receiver signal) at a cell voltage of approx. 2.7 or 3.0 V
Dimensions approx. 42 x 42 x 12 mm
Weight approx. 18 g
Description
The LiPo deep discharge guard reliably protects your valuable LiPo battery cells from »fatal« deep-discharging.
LiPo cells tend to differ in voltage, particularly in packs containing more than three cells,
but the speed controller can only monitor the overall voltage of the battery pack,
which can result in the demise of the weakest cell if it becomes deep-discharged.
In contrast, this circuit monitorseach cell individually,
and reliably protects them from being discharged to an excessive level.

The unit also transforms any speed controller (without reverse mode) into a LiPo-capable type.
The unit is connected to the white multi-pin connector attached to the LiPo battery,
and automatically detects the number of cells in the pack;
it confirms this by emitting a corresponding flashing sequence of the LEDs.
This unit is also connected between the receiver and the speed controller.
If the voltage of any cell falls below a value of around 2.7 V or 3 V per cell (switchable threshold),
the unit shortens the receiver throttle signal to the point where the speed controller throttles back and maintains the cell voltage at the minimum value of 2.7 V or 3 V.
The module features jumpers which enable it to be used with the BEC receiver power supply of BEC controllers.
A switch is provided for setting the throttle-back voltage to 2.7 V or 3 V.